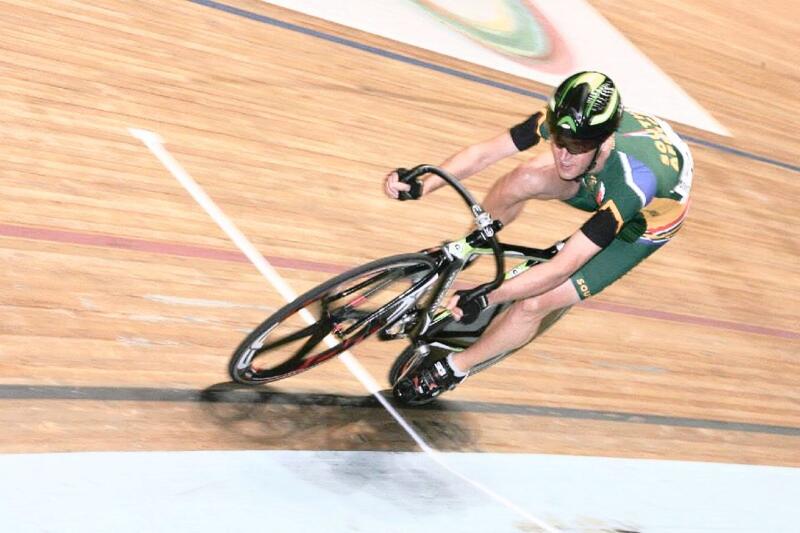 National master's cyclist Jaco Scholtz bagged three gold medals during the Western Cape Championships, at the Bellville Velodrome, at the weekend.
The 47-year-old TrackCyclingSA rider won gold in the 45 to 49 division for the individual pursuit event, gold in the 750m time trial event, and gold in the team pursuit.
"I am happy that I have given it my best and need to keep on working hard to get back to my best times. Cycling has given me the focus to get fit again. I also won a gold in the master's team pursuit with Theuns van der Bank, Gavin Cannone, and Dirk van Zyl. Dirk and I are from TrackCyclingSA and the other two are from Bellville Cycling Club," he said.
The club did well with Van Zyl winning gold in the 40 to 44 age group for the 750m time trial.
Matthew Ferguson of TrackCyclingSA competed in the 50 plus age category and won gold in the individual pursuit, 1 500m, and the match sprint.
Jacques Pienaar, who started at a Ride-The-Wall session with TrackCyclingSA, in September, competed in his first provincial champs and won bronze in both the 1 000m time trial and the 3 000m pursuit in the 35 to 39 age group.
Scholtz is no stranger to winning. In 2013 he was among four cyclists from TrackCyclingSA that represented the country at the Master's Championships, in Manchester, UK. The team also included Ryno Kotze, Debbie Loffel-Dawson and six-time national Track Champ and 2017 Junior National Road Champ, Ashleigh Parsons.
Last month, Scholtz finished second on the overall log after a successful race at the Master's League, at the Bellville Velodrome.
He grew up in Parow East and attended Parow East Primary. As soon as he could ride a bike, he was already seen racing other young kids for fun in the street.
At the age of 12, Scholtz bought his first road bicycle for R10 from his neighbour. When he was at Tygerberg High School, he saved up R500 for a road racing bike from the local hypermarket.
He said cycling helped him to travel across Europe to compete at events.
The veteran rider said after his trip to Manchester, he felt inspired to bring back to Cape Town what he had learned, whether it be to promote cycling as a recreational sport or to empower more people to take up the sport.
Prior to founding the TrackCyclingSA bicycle racing team in 2007, Scholtz helped to run the Table View-based Outriders' racing division.
He then focused on growing TrackCyclingSA.
His growth was evident when a rider from Belgium approached them to hire out a bike to race at the Bellville Velodrome.
This was around the same time TrackCyclingSA received funding from the Pedal Power Association (PPA).
"In the beginning, we were very small until a guy from Belgium contacted me to ride at the Bellville Velodrome. He did not bring his bike so I bought a bike and rented it off to him. From the money I made I bought another bike and more people contacted us to join," he said.
"They (PPA) helped us with a grant. We got some second-hand bikes, refurbished them and ended up with 20 bikes," he said.
Scholtz received a Union Cycliste Internationale (UCI) level 1 coaching licence last year.
Since 2013 the club has introduced over 140 riders, including five during the lockdown, to track cycling, road racing, and mountain biking.
"The lockdown shocked a lot of us. Fortunately, many of us have got indoor trainers. So we used Instagram and other social media networks to get in touch with trainers and riders at home," he said.
Scholtz said since they returned to the Bellville Velodrome, there have been strict Covid-19 safety regulations.
"The Velodrome was closed. I asked the City of Cape Town when we can train again on Twitter. In 24 hours we got an email from the City and Western Province Cycling
and we have been training since September," he said.
"When you enter, you have to sign the register. There will always be risks but we can't live our lives in fear.
"And for minors, their parents have to be there. We are still promoting the sport and getting new riders into the sport," he said.
At last month's league race, Scholtz said the youngest riders were in the under-12 division and the eldest rider was John Moss, a 74-year-old veteran.
TrackCyclingSA has riders from the north to the south of the province, including riders from Kayamandi and Khayelitsha.
Scholtz said most riders face the challenge of transport and a lack of infrastructure particularly in townships.
However, he added: "If you have a passion to succeed, there are avenues, especially when you associate with the right club. In this case, try it (cycling) out and have fun. It's a close community, you can do a race and become friends."