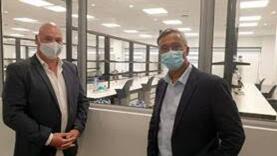 One of the biggest pharmaceutical companies in the world has set up shop in Brackenfell in a move that the City says will bring about R700 million in investment and 300 jobs.
Roche Diagnostics officially opened its Brackengate site last week after signing a long-term lease in 2020 for space at the Brackenfell business park.
The site boasts laboratories, biotech production capacity and office workspace.
Mayoral committee member for economic growth James Vos said it would bring an estimated investment of R700 million.
"It brings with it employment opportunities for around 300 people in the first three years of operation," Mr Vos said.
He described Roche's move as "an endorsement of Cape Town as a leading investment hub in Africa, particularly in technology and specifically in health-tech".
Referring to Pfizer and BioNTech's 2021 announcements of partnerships with the Cape Town-based Biovac Institute for the manufacture and distribution of vaccines across Africa, he said the latest move helped to promote the city as a "health-tech capital".
Roche did not respond to emailed queries by deadline.