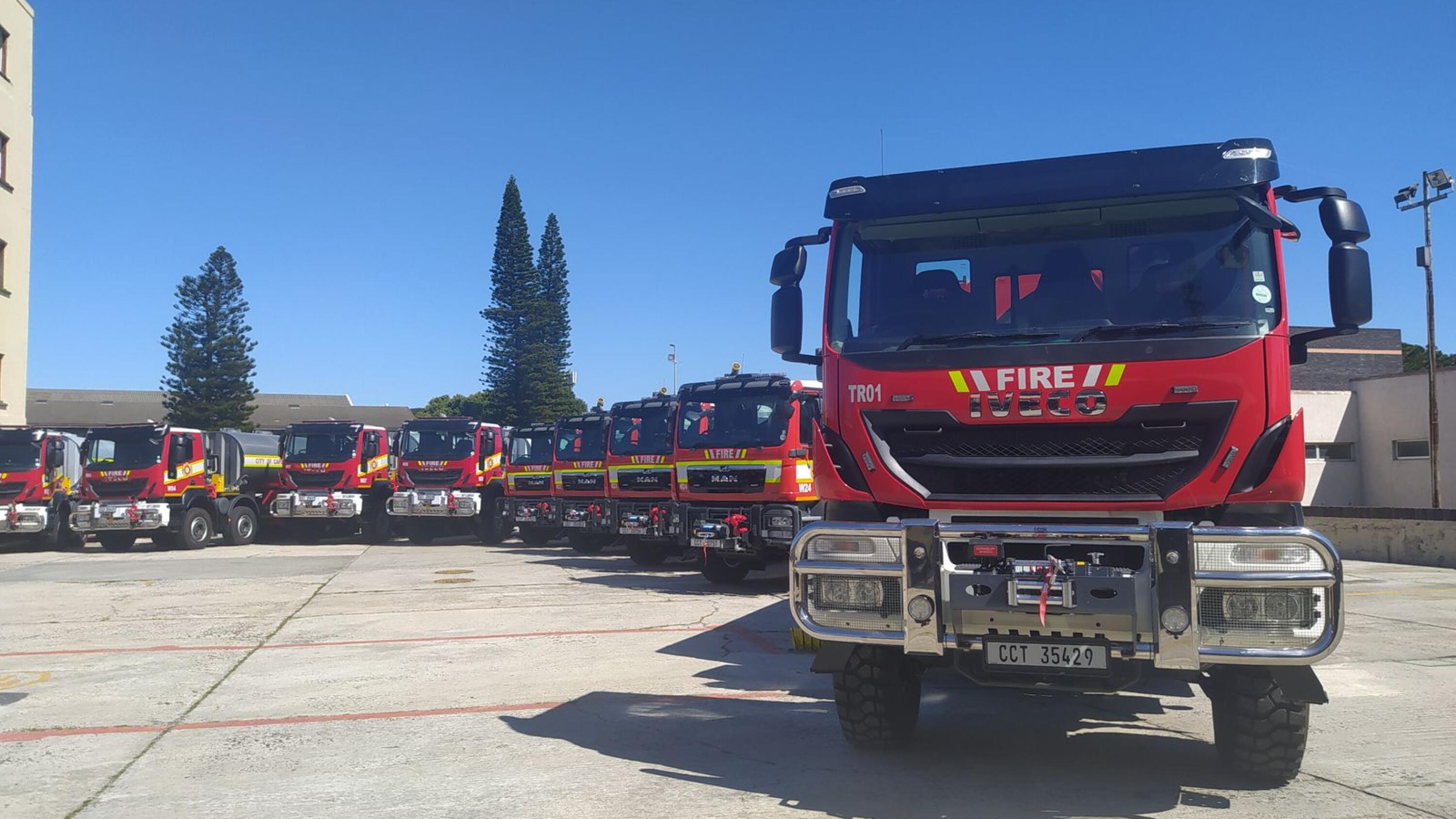 A fleet of new fire trucks, costing the City more than R80 million, rolled out for inspection at Epping fire station's training academy last week.
The 17 specialised water tankers and two heavy technical rescue vehicles, or HTRVs, will be deployed to fire stations across Cape Town.
This is the biggest fleet of new vehicles to be launched at once, according to City Fire and Rescue Service spokesman Jermaine Carelse.
"The new vehicles have improved off-road capabilities to gain access to informal settlements, wetlands, sand dunes, mountainous terrain and steep inclines," he said.
"The expansion of our fleet with new model vehicles allows for improved reliability and minimises the need for maintenance and repairs of older model vehicles."
The expanded fleet would improve the fire department's response times, said Mr Carelse.
JP Smith, mayoral committee member for safety and security, said the new trucks boosted the City's fire-and-rescue capabilities, and the more than R81 spent on them was an investment in the safety of people and property.
"Our firemen and women work in extremely dangerous environments when called upon to extinguish fires. They need the best equipment to assist those in need, to protect lives, property, and infrastructure."
The two custom-designed HTRVs will be deployed from the Bellville and Roeland Street fire stations.
"The new vehicles are fully off-road capable to address our geographical challenges within the city," said Mr Carelse. "They now include a crane and several new items of equipment, along with items not available to us previously, such as technical search devices."
Stations identified for the 17 water tankers, include Milnerton, Strand, Epping, Mfuleni, Khayelitsha, Lakeside, Macassar, Gugulethu, Ottery, Roeland Street, Hout Bay, Goodwood, Kraaifontein and Brackenfell.
"All of the new vehicles have extensive off-road capabilities with an advanced drive train to allow for accessing difficult terrain," said Mr Smith. "In addition to the water-storage capacity, some of the vehicles also have foam tanks on board for extinguishing certain fires in environments where using foam is required instead of the conventional medium of water.
"The latest technology allows the operator to control the foam and water cannons from within the vehicle even while in transit, or from a remote console."