A gentle giant, a friend, a leader and a loving father with an infectious laugh, these were some of the many treasured traits held by the late William J Olivier who was fondly remembered by his fellow firefighters, family and friends during a memorial service at Goodwood fire station last Wednesday, September 29.
Mr Olivier, 57, originally from George, lived in Durbanville with his family.
According to City Fire and Rescue Service spokesman, Jermaine Carelse, Mr Olivier was their divisional commander responsible for their fleet service for the fire service.
Head of the Command and Control Centre, Craig Cyster, welcomed the guests on the day and paid homage to their dear friend and colleague who dedicated 40 years of his life to the fire service.
"Today we celebrate the life of a husband, father, brother, colleague and a dear friend. He was a no nonsense gentle giant and a legend of our service. To all his family, on behalf of all the chief officers of firefighters, please accept our heartfelt condolences on your great loss," he said.
He also shared a warm anecdote that ignited a roar of laughter when he recalled Mr Olivier's humorous nature during their feedback meetings, as he would sometimes struggle to report back in English.
"During one of our monthly meetings – which was conducted in English, Willie was the one to give feedback. Midway through his report back he turned to the chief and said: 'Meneer! Ek is nou klaar gepraat my Engels is op'," he said.
Chief Fire Officer, Ian Schnetler, also gave a sincere account of Mr Oliver's kind nature and the immeasurable sense of loss felt by their fire fighting community since his passing.
"There's actually no words to express the loss that we are feeling now with Willie that's left us. Although he's left us in person, we still have many memories of what he stood for, what he did, what he provided and his passion for the fire and rescue service. His legacy remains behind and that which you see around you, there's evidence of his hand in everything that we have," he said.
"He was a man of integrity, he was a man of honour and someone that loved his family, both the fire services and his direct family. He was a man that was passionately fond of what he was doing. Even till the day when he first succumbed to the illness, he was visibly disappointed with himself that he couldn't continue providing for the fire and rescue services," Mr Schnetler said.
He added that Mr Olivier's wish to remain offering his services despite his illness was testament to his selfless character while always having the fire service at heart.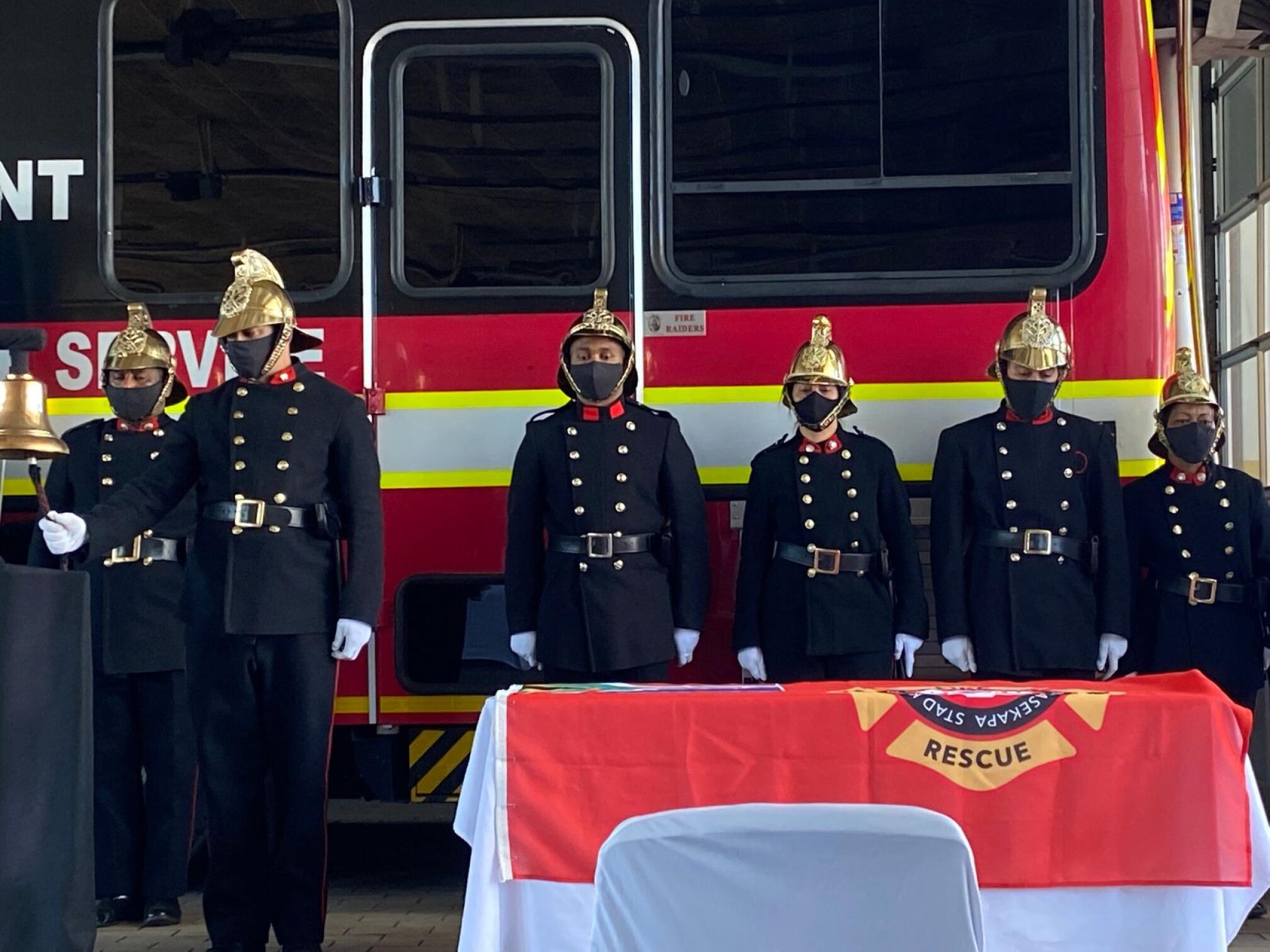 Mr Carelse said they wished to keep the details surrounding Mr Oliver's illness private out of respect for his family.
"As a colleague we used to have quite a few adventures together. Since the early or late nineties, he was involved in competitions, conferences and basically anything that had to do with firefighting. He was known on a national and international basis and whenever he attended an overseas conference he would implement these new ideas to improve things at the fire service. He was just a born firefighter at heart," Mr Schnetler said.
"Sometimes he also managed to help us out of quite a few incidents because he was innovative and we made a plan to get ourselves out of the potential mess we could have been in. He was a fun guy, he enjoyed humour and I think up until the day before he died he still gave that smirk and that little humour about fire service he enjoyed like playing pranks on people.
"Willie on his passing had just on 40 years of service, 19 with the Parow municipality, eight at Belhar where he was Divisional Commander of operations and the last 13 years we shared an office at Milnerton where he was the head of fleet. In the early days the only time when we really got to know each other and became close was on a competitive nature, either playing golf, darts or snooker. Competitiveness was always in his blood," recalled Mr Olivier's close friend and retired Station Commander of the City's Fire and Rescue Service, Patrick Muir.
"Our very first project together in standardisation, was the remarking of all vehicles within the fire service to get in under one umbrella. With Willie's perseverance in this project, the fleet has grown and been replaced to a total of 311 vehicles with 12 still to be delivered at this time. So we worked right till the end," Mr Muir said.
He added that Mr Olivier played a major role in the establishment and centralisation of their breathing apparatus in their fire service.
"He played roles in the development and design of many of the fire stations that we see around us and ones that are still to come."